Blog-Article
Try for 5 week
Celebrating Try for 5 week with our resident Dietitian, Teri Lichtenstein.
This month TastyOne is supporting the annual Try for 5 campaign, can you explain what the TryFor5 campaign is?
"Try for 5 is an annual campaign created by Nutrition Australia, to help raise awareness of the many benefits of eating vegetables and to encourage all Australians to eat the recommended amount of 5 serves of veggies every day.
The campaign this year focuses on small everyday changes that can help everyone achieve their daily 5 serves in a budget-friendly way with delicious recipes and creative ways to add more veggies to every day meals.
Less than 7% of Australian adults eat enough veggies and the Try for 5 campaign is a great campaign to help get more Aussies eating more delicious vegetables every day."
Why is it so important for TastyOne's customers (and all Australians) to embrace this campaign?
"You don't need to be a Dietitian to know that veggies contain a myriad of nutrition benefits that support overall health. But despite most of us knowing this, we just aren't getting enough in our daily diets and this has a negative impact on our overall health.
With current research connecting unhealthy food with a number of health issues, from obesity and diabetes to heart disease, stroke, cancer and mental health, it's vital that Australian's include more vegetables in their daily diet. Vegetables add pleasure to a healthy balanced diet.
With so many bright colours, delectable tastes, interesting textures and tantalising aromas and scents – the presence of these foods can make a healthy diet more enjoyable.
The Try for 5 campaign is a great way for all Australians to set themselves a goal for National Nutrition Week and aim to add as many different colourful vegetables as possible to everyday meals. Hopefully everyone will realise how easy it can be to achieve this goal and will make this a daily habit beyond the campaign."
What are some further health benefits associated with increasing vegetable intake, and how does TryFor5 contribute to these benefits?
"Vegetables contain a range of nutrients including vitamins, minerals, fibre and antioxidants, which help prevent cell damage and ward off diseases. There is also strong evidence that higher vegetable intake is related to better mental health, and a healthy, varied diet with lots of vegetables is good for brain function, psychological wellbeing and mood.
Try for 5 raises the awareness of the importance of eating enough vegetables in the day. With busy lives, it's a great reminder to all of us to make sure that we eat the whole rainbow and add more veggies to our meals.
Try for 5 ties in very well with the trend we are seeing where more Australians are choosing a plant-based style of eating. Restaurants and supermarkets now offer so many options where vegetables are the hero of a meal and no matter your lifestyle, it really is possible to get your daily five."
Can you share some practical tips or strategies for our customers to incorporate more vegetables into daily meals for those who may find it challenging?
"My biggest tip I give people is to get into a routine where meal preparation is part of your weekly routine. Set aside some time each week to prep your veggies and have them ready to go in the fridge as this way you are more likely to munch on some carrot sticks as a snack, throw together a quick garden salad for dinner, add some diced veggies to an omelette and spruce up a boring sandwich with some colour.
Try to get out of your comfort zone and purchase some different vegetables form the supermarket or greengrocer and give something new a try. Thanks to Google, there will be no shortage of recipes for all kinds of vegetables and you may just find a new favourite.
Remember that frozen and canned vegetables also count towards your daily target and are a convenient source of vegetables to have on hand.
Think in colour when preparing meals and don't be afraid to add an extra vegetable to a recipe. Most vegetables can be substituted so if you don't have the recipe ingredient on hand, simply use what you have at home.
With summer around the corner, have a go at cooking veggies on the BBQ. Corn, asparagus, tomato and many others taste great when they are chargrilled and are quick and easy to cook.
If vegetables are lurking in the fridge and going limp, pickle them by slicing and refrigerate in a glass jar for a few hours with a sprinkle of salt, sugar and a dash of vinegar. This works for just about any veg – sticks of fresh cucumber, carrot, cauliflower florets or slices of radish.
Don't be afraid to dress up your vegetables to add flavour and texture. Healthy oils such as extra virgin olive oil not only make veggies taste delicious, they can help make the nutrients more bioavailable through cooking so your body can absorb them better."
Are there specific vegetables that people should focus on incorporating into their diets, and why are they particularly beneficial?
"Picking a superior vegetable would be like choosing a favourite child - they are all great and all deserve credit! I do however recommend that you choose vegetables that you enjoy as taste is the number one priority when it comes to a healthy diet.
Different coloured vegetables have different benefits. For example, red onions contain an antioxidant called anthocyanin, which gives the onion its red pigment. Anthocyanin is a powerful antioxidant that can help prevent memory decline in older years. Orange sweet potatoes are high in beta-carotene, another type of antioxidant that can reduce inflammation in chronic disease. Mushrooms are unique in that they are one of the few vegetables that contain Vitamin D, and the amount increases if they spend some time in the sun. So as you can tell, all vegetables are beneficial and all have their own unique contributions to optimal health."
What role does variety play in vegetable consumption, and how can individuals ensure they're getting a diverse range of nutrients from their vegetable choices?
"Variety is important for many reasons. Firstly, the reason it is recommended that people "eat the rainbow" is that different coloured vegetables provide different nutrients, specifically different types of antioxidant compounds which help prevent disease. Whilst all vegetables contain vitamins, minerals and fibre, some are higher than others in specific micronutrients. By eating a varied diet and enjoying many different vegetables, you will be more likely to reach the recommended intake of different nutrients to support optimal health.
The other equally important reason to eat a variety of vegetables is to ensure your meals stay interesting and enticing. Healthy food never needs to be boring and we are fortunate in Australia that year round we have such a large variety of vegetables available to us to enjoy in so many ways."
Lastly, are there any resources or tools available to help individuals track their vegetable intake and stay motivated to continue trying for five servings a day?
"Try for 5 has great resources on the website - meal planning tools, shopping lists and recipes. Find out more about Try for 5 at www.tryfor5.org.au .
Try for 5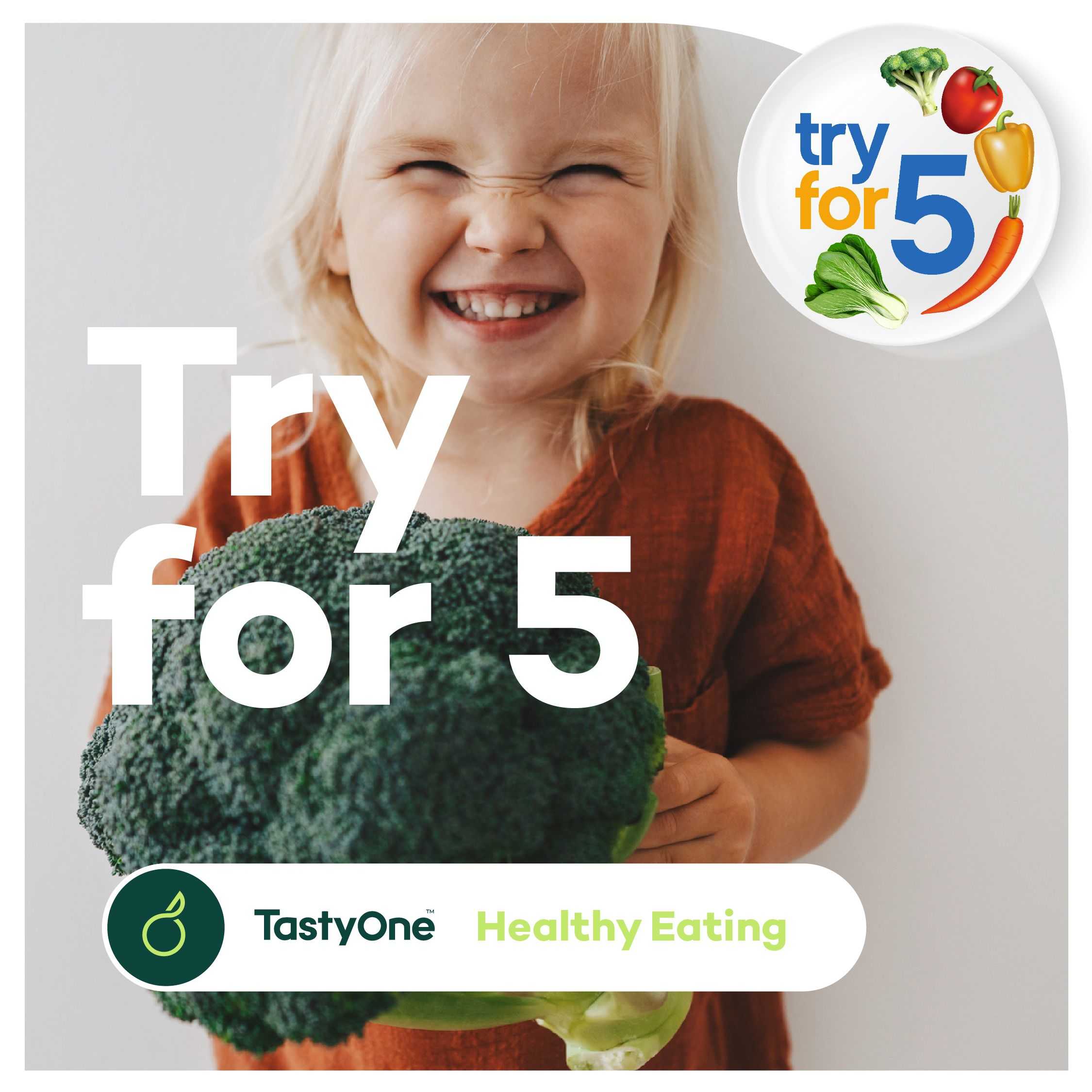 Read & stay in touch
Read up and stay in touch about what is happening at TastyOne on our blog.